Washita County Real Estate & Farm Equipment Auction
Wednesday, November 14, 2018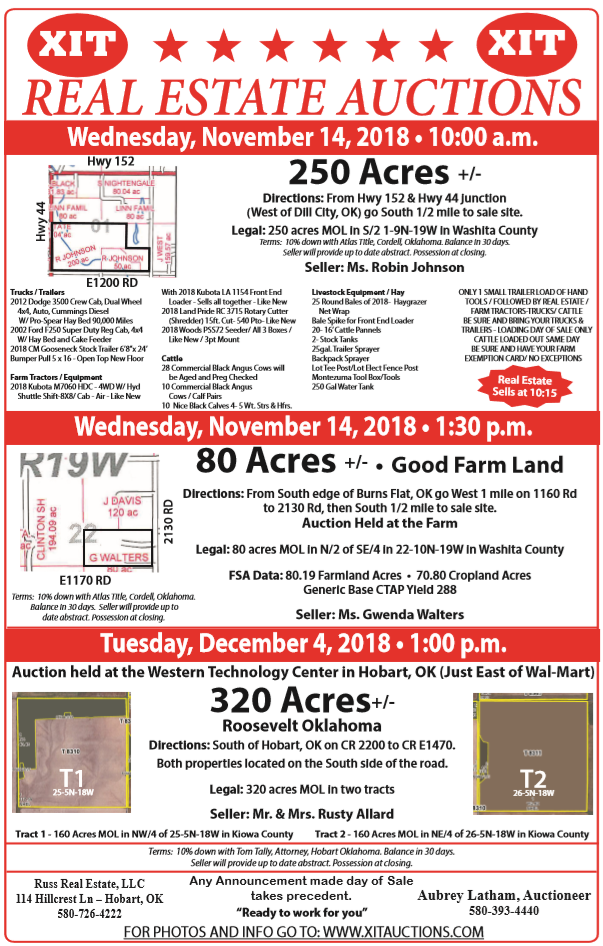 10:00AM Start
Dill City, OK
Seller: Mrs. Robin Johnson
Auction will begin at 10:00 AM at the farm.
Selling 250 acres MOL and Farm Equipment.
Property located in the S/2 of 1-9-19W in Washita County, Oklahoma.
Directions: From Hwy 152 & Hwy 44 junction (West of Dill City, OK) go South 1/2 mile to sale site.  Watch for Signs!
Selling Surface & Surface Only.
**Equipment List**
TRUCKS/ TRAILERS
2012 Dodge 3500 Crew Cab, Dual Wheel 4×4, Auto, Cummings Diesel
W/ Pro-Spear Hay Bed 90,000 Miles
2002 Ford F250 Super Duty Reg Cab, 4×4 W/ Hay Bed and Cake Feeder
2018 CM Gooseneck Stock Trailer 6'8″x 24′
Bumper Pull 5 x 16 – Open Top New Floor
FARM TRACTORS/ EQUIPMENT
2018 Kubota M7060 HDC – 4WD W/ Hyd Shuttle Shift-8X8/ Cab – Air – Like New
With 2018 Kubota LA 1154 Front End Loader – Sells all together – Like New
2018 Land Pride RC 3715 Rotary Cutter (Shredder) 15ft. Cut- 540 Pto- Like New
2018 Woods PSS72 Seeder/ All 3 Boxes/ Like New / 3pt Mount
CATTLE
28 Commercial Black Angus Cows will be Aged and Preg Checked
10 Commercial Black Angus Cows / Calf Pairs
10 Nice Black Calves 4- 5 Wt. Strs and Hfrs.
Cows have been AGED & PREG-CHECKED:
5 & 6 year old cows
Pairs and mostly short bred.
LIVESTOCK EQUIPMENT/ HAY
25 Round Bales of 2018- Haygrazer -Net Wrap
Bale Spike for Front End Loader
20- 16′ Cattle Pannels
2- Stock Tanks
25gal. Trailer Sprayer
Backpack Sprayer
Lot Tee Post/Lot Elect Fence Post
Montezuma Tool Box/Tools
250 Gal Water Tank
ONLY 1 SMALL TRAILER LOAD OF HAND TOOLS / FOLLOWED BY REAL ESTATE/ FARM TRACTORS-TRUCKS/ CATTLE
BE SURE AND BRING YOUR TRUCKS AND TRAILERS – LOADING DAY OF SALE ONLY- CATTLE LOADED OUT SAME DAY
BE SURE AND HAVE YOUR FARM EXEMPTION CARD/ NO EXCEPTIONS
Contact Aubrey Latham at 580-393-4440 with any questions.