Farm Equipment Auction
Saturday, April 20, 2019 @ 10:00 am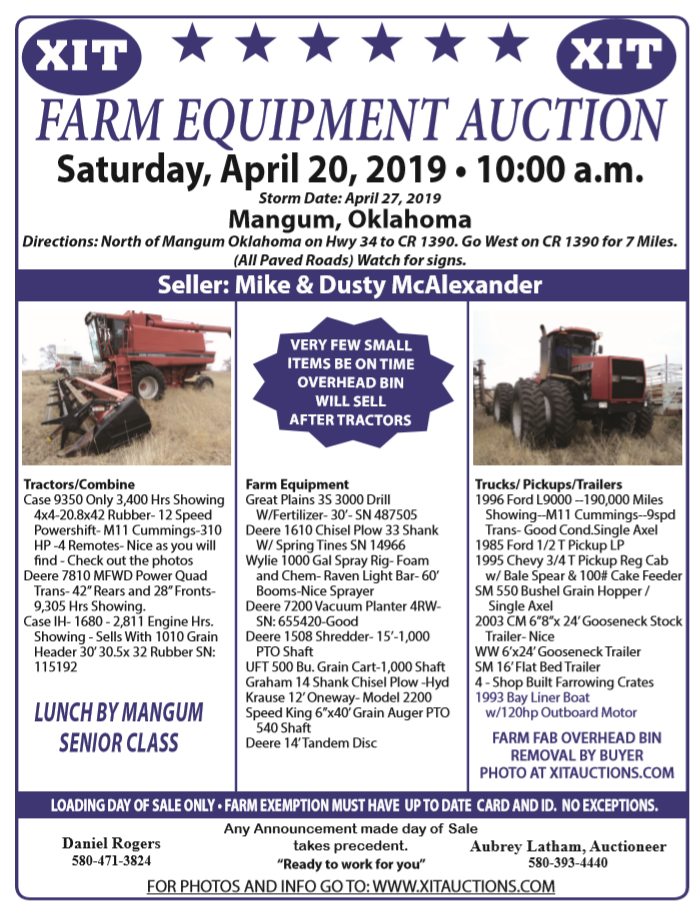 Mangum, OK
Storm Date: Saturday, April 27th, 2019
Sellers: Mike & Dusty McAlexander
Directions:  North of Mangum Oklahoma on Hwy 34 to CR 1390. Go West on CR 1390 for 7 Miles.  (All Paved Roads) Watch for signs!
Lunch Served by Mangum Senior Class
Tractors/Combine
Case 9350 Only 3,400 Hrs Showing 4×4-20.8×42 Rubber- 12 Speed Powershift- M11 Cummings-310 HP -4 Remotes- Nice as you will find – Check out the photos
Deere 7810 MFWD Power Quad Trans- 42″ Rears and 28″ Fronts- 9,305 Hrs Showing.
Case IH- 1680 – 2,811 Engine Hrs. Showing – Sells With 1010 Grain Header 30′ 30.5x 32 Rubber SN: 115192
Farm Equipment
Great Plains 3S 3000 Drill W/Fertilizer- 30′- SN 487505
Deere 1610 Chisel Plow 33 Shank W/ Spring Tines SN 14966
Wylie 1000 Gal Spray Rig- Foam and Chem- Ravin Light Bar- 60′ Booms-Nice
Deere 7200 Vacuum Planter 4RW- SN: 655420-Good
Deere 1508 Shredder- 15′-1,000 Shaft
UFT 500 Bu. Grain Cart-1,000 Shaft
Graham 14 Shank Chisel Plow -Hyd
Krause 12′ Oneway- Model 2200
Speed King 6″x40′ Grain Auger PTO 540 Shaft
FARM FAB OVERHEAD BIN/ REMOVAL BY BUYER
Trucks/ Pickups/Trailers
1996 Ford L9000 –190,000 Miles Showing–M11 Cummings–9spd Trans- Good Cond. Single Axel
1980's Ford Pickup
1990's Chevy Pickup w/ Bale Spear
SM 550 Bushel Grain Hopper / Single Axel
2003 CM 6″8″x 24′ Gooseneck Stock Trailer- Nice
WW 6'x24′ Gooseneck Trailer
SM 16′ Flat Bed Trailer
4 – Shop Built Farrowing Crates
VERY FEW SMALL ITEMS BE ON TIME – OVERHEAD BIN WILL SELL AFTER TRACTORS
LOADING DAY OF SALE- BRING YOUR TRUCKS AND TRAILERS.
FARM TAX EXEMPTION WITH UP TO DATE CARD– NO EXCEPTIONS.
Contact Aubrey Latham at 580-393-4440.