Greer County Farm Equipment Auction
Saturday, December 14, 2019 @ 10:00 am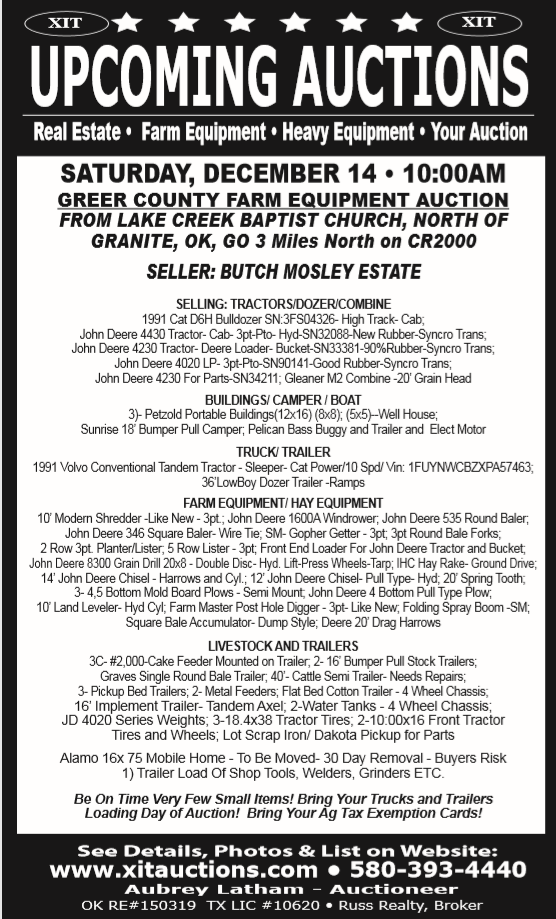 Lake Creek, OK
Seller:  Butch Mosley Estate
Selling Farm Tractors, Equipment, Trucks, Trailers, Livestock Equipment, and More.
Directions:  From Lake Creek Baptist Church, go 3 miles North on CR 2000.  East side of road.
Address:
33987 N CR 2000
Granite, OK 73547
Equipment:
Tractors/Dozer/ Combine
1991 Cat D6H Bulldozer SN:3FS04326- High Track- Cab
John Deere 4430 Tractor- Cab- 3pt-Pto- Hyd-SN32088-New Rubber-Syncro Trans.
John Deere 4230 Tractor- Deere Loader- Bucket-SN33381-90%Rubber-Syncro Trans.
John Deere 4020 LP- 3pt-Pto-SN90141-Good Rubber-Syncro Trans
John Deere 4230 For Parts-SN34211
Gleaner M2 Combine -20′ Grain Head
Buildings/ Camper / Boat
3)- Petzold Portable Buildings(12×16) (8×8)- – (5×5)–Well House
Sunrise 18′ Bumper Pull – Camper
Pelican Bass Buggy and Trailer and Elect Motor
Truck/ Trailer
1991 Volvo Conventional Tandem Tractor – Sleeper- Cat Power/10 Spd/
Vin: 1FUYNWCBZXPA57463
36'LowBoy Dozer Trailer -Ramps
Farm Equipment/ Hay Equipment
10′ Modern Shredder -Like New- 3pt.
John Deere 1600A Windrower
John Deere 535 Round Baler
John Deere 346 Square Baler- Wire Tie
SM- Gopher Getter – 3pt
3pt Round Bale Forks
2 Row 3pt. Planter/Lister
5 Row Lister – 3pt
Front End Loader For John Deere Tractor and Bucket
John Deere 8300 Grain Drill 20×8 – Double Disc- Hyd. Lift-Press Wheels-Tarp
IHC Hay Rake- Ground Drive
14′ John Deere Chisel – Harrows and Cyl.
12′ John Deere Chisel- Pull Type- Hyd
20′ Spring Tooth-
3- 4,5 Bottom Mold Board Plows – Semi Mount
John Deere 4 Bottom Pull Type Plow
10′ Land Leveler- Hyd Cyl
Farm Master Post Hole Digger – 3pt- Like New
Folding Spray Boom -SM
Square Bale Accumulator- Dump Style
Deere 20′ Drag Harrows
Livestock and Trailers
3C- #2,000-Cake Feeder Mounted on Trailer
2- 16′ Bumper Pull Stock Trailers
Graves Single Round Bale Trailer
40′- Cattle Semi Trailer- Needs Repairs
3- Pickup Bed Trailers
2- Metal Feeders
Flat Bed Cotton Trailer – 4 Wheel Chassis
16′ Implement Trailer- Tandem Axel
2-Water Tanks – 4 Wheel Chassis
JD 4020 Series Weights
3-18.4×38 Tractor Tires
2-10:00×16 Front Tractor Tires and Wheels
Lot Scrap Iron/ Dakota Pickup for Parts
Alamo 16x 75 Mobile Home – To Be Moved- 30 Day Removal – Buyers Risk
1 Trailer Load Of Shop Tools, Welders, Grinders ETC.—–Be On Time Very Few Small Items !!!
Bring Your Trucks and Trailers Loading Day of Auction- Bring Your Ag Tax Exemption Cards !!!
Contact Aubrey Latham at 580-393-4440.