Washita & Kiowa County Real Estate Auction
Friday, January 24 @ 1:00 pm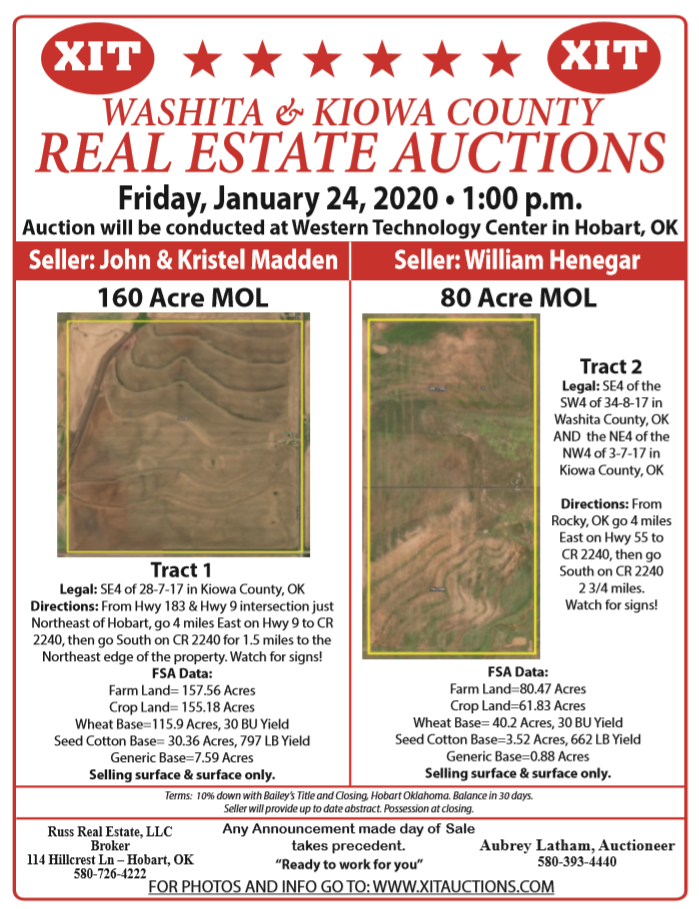 Rocky, OK
Seller:  William Henegar
Selling 80 Acres MOL.
Legal: SE4 of the SW4 of 34-8-17 in Washita County, OK AND NE4 of the NW4 of 3-7-17 in Kiowa County, OK
Auction will be conducted at the Western Technology Center in Hobart, OK (Just East of Wal-Mart)
Directions: From Rocky, OK go 4 miles East on Hwy 55 to CR 2240, then go South on CR 2240 2 3/4 miles. Watch for signs!
FSA Data:
Farm Land= 80.47 Acres
Crop Land= 61.83 Acres
Wheat Base= 40.20 Acres, 30 BU Yield
Seed Cotton Base= 3.52 Acres, 662 LB Yield
Generic Base= 0.88 Acres
Selling surface & surface only!
Call Aubrey Latham at 580-393-4440 for more information.