Quality Farm Equipment Auction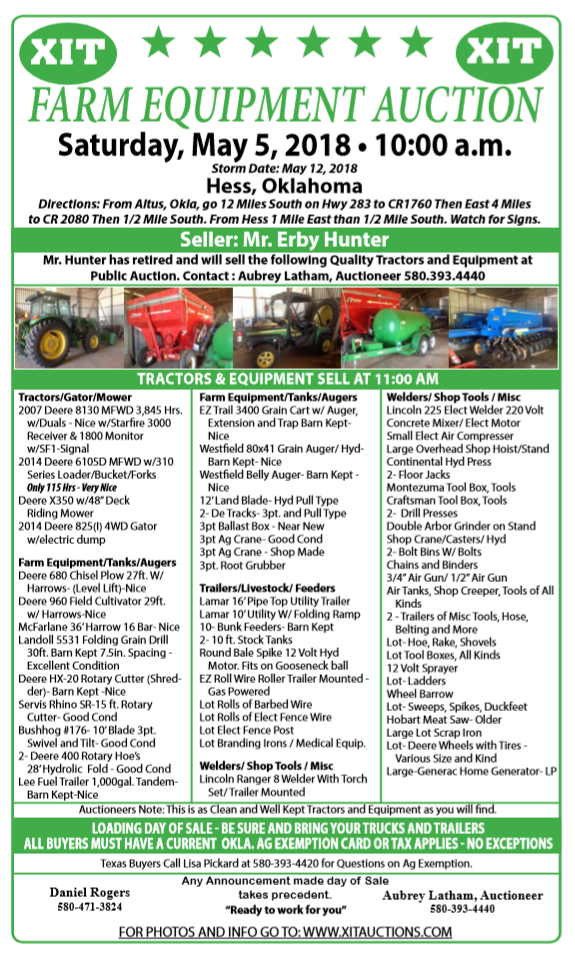 10:00 AM Start
Hess, OK  (Located 15 miles South of Altus, OK)
(Storm Date: Saturday, May 12th, 2018)
Seller: Mr. Erby Hunter
Mr. Hunter has retired and will sell the following Quality Tractors and Equipment at Public Auction. Contact Aubrey Latham, Auctioneer at 580-393-4440.
Directions: From Altus, OK go South 12 miles on Hwy 283 to CR 1760, then East 4 miles to CR 2080, then South 1/2 mile.  WATCH FOR SIGNS
Deere 8130 Tractor MFWD – 3,844 Hrs- Dual- Nice
Deere 6105D W/ Loader- Low Hrs- Nice
Deere HX-20 Rotary Cutter (Shredder)-Nice
Deere 960 Field Cultivator W/ Harrows-29ft-Nice
Deere 680 Chisel Plow (Level Lift) W/Harrows-27ft-Nice
Landoll 5531 Folding Grain Drill- Nice Barn Kept
McFarlane 16 Bar – 36ft Harrow- Nice
Lee Fuel Tank- Tandem Axel- Barn Kept-Nice
EZ-Trail 3400 Grain Cart- Nice Barn Kept
West Field 80×41 Grain Auger- Nice Barn Kept
Wheat Hart Belly Auger- Nice Barn Kept
Servis-Rhino SR15- Rotary Cutter (Shredder)- Clean
Bushhog 176 – Rear Mount 3pt Blade- Tilt- Clean
2- Deere 400 Series Rotary Hoe's- 8R- Folding
2- De- Track's – 3pt and Drag
3pt. Ballast Box- Near New
Ag- Crane 3pt Mount- Clean
Ag-Crane 3pt- Shop Made
Lot- Tee Post
EZ Roll Gas Power Wire Roller W/Trailer
Lot- Barb Wire – On Roller
Lot -Elect Wire – On Roller
Lot- Elect Fence Post
10- Bunk Feeders
Metal Building Trust- Pipe
Lot -Scrap Metal and Pipe
Large Generac – Home Generator-LP
Deere Gator
Deere Lawn Mower
2- Trailer Loads of Shop Tools and Parts
Auctioneers Note: This is as Clean and Well Kept Tractors and Equipment as you will find.
Loader- Day of Auction. Bring your Trucks and Trailers. Lunch and Restrooms Day of Auction.
Aubrey Latham 580.393.4440 or Daniel Rogers 580.471.3824
Continue scrolling for all pictures.