Kiowa County Real Estate Auction
Thursday, April 11, 2019 @ 1:00 pm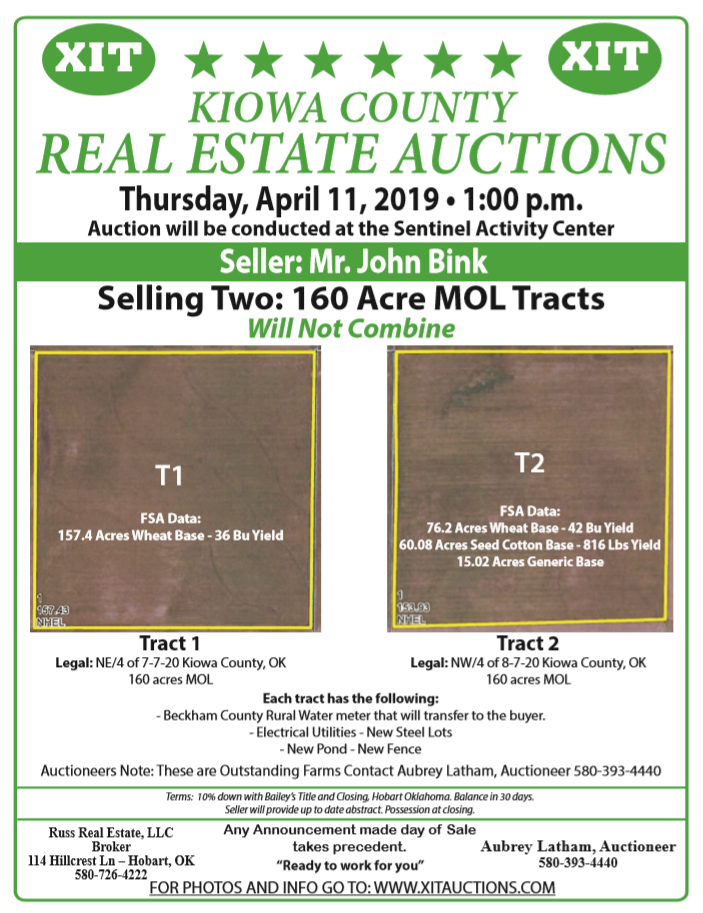 Kiowa County, OK
Seller: Mr. John Bink
Selling  320 acres in 2 Tracts
Auction will be conducted at the Sentinel Activity Center.
Directions: From Retrop, OK go 4 miles South on Hwy 6 to CR 1320, then 1 mile East.  Properties are on the South side of road at the intersection of EW 1320 & N 2040. Watch for Signs!
Legals:
Tract 1: NE/4 of 7-7-20 Kiowa County, OK – 160 acres MOL
Tract 2:  NW/4 of 8-7-20 Kiowa County, OK – 160 acres MOL
Will not be combined.
Each Tract Includes:
Beckham County Rural Water Meter that will transfer to the buyer.
Electrical utilities
New steel lots
New pond
New fence
These are OUTSTANDING FARMS
FSA Data:
Tract 1
157.4 Acres Wheat Base – 36 Bu Yield
Tract 2
76.2 Acres Wheat Base – 42 Bu Yield
60.08 Acres Seed Cotton Base – 816 Lbs Yield
15.02 Acres Generic Base
Contact Aubrey Latham, Auctioneer at 580-393-4440.