Beckham County Farm Equipment Auction
Saturday, July 27, 2019 @ 9:00 am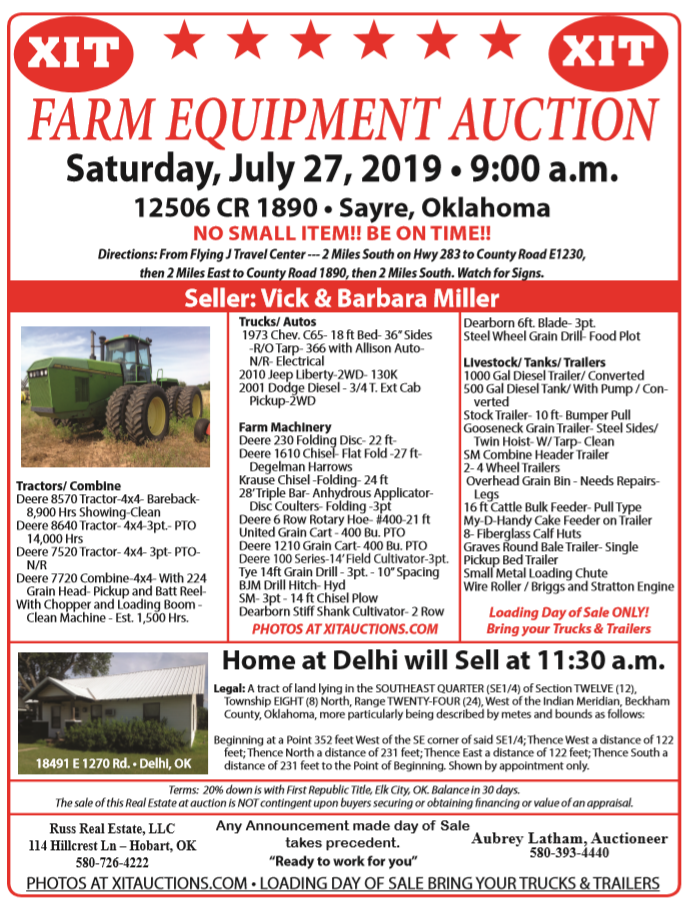 9:00AM Start
Sayre, OK
Sellers:  Vick & Barbara Miller
Directions:  From Flying J in Sayre, OK intersection of I40 & Hwy 283 – go 2 Miles South on Hwy 283 to County Road E1230, then 2 Miles East to County Road 1890, then 2 1/4 Miles South.  Watch for signs!
12506 CR 1890
Sayre, OK 73662
Tractors/ Combine
Deere 8570 Tractor-4×4- Bareback- 8,900 Hrs Showing-Clean
Deere 8640 Tractor- 4×4-3pt.- PTO 14,ooo Hrs
Deere 7520 Tractor- 4×4- 3pt- PTO- N/R
Deere 7720 Combine-4×4- With 224 Grain Head- Pickup and Batt Reel-
With Chopper and Loading Boom – Clean Machine – Est. 1,500 Hrs.
Trucks/ Autos
1973 Chev. C65- 18ft Bed- 36″ Sides -R/O Tarp- 366 with Allison Auto- N/R- Electrical
2010 Jeep Liberty-2WD- 130K
2001 Dodge Diesel – 3/4 T. Ext Cab Pickup-2WD
Farm Machinery
Deere 230 Folding Disc- 22ft-
Deere 1610 Chisel- Flat Fold -27ft- Degelman Harrows
Krause Chisel -Folding- 24ft
28′ Triple Bar- Anhydrous Applicator- Disc Coulters- Folding -3pt
Deere 6 Row Rotary Hoe- #400-21ft
United Grain Cart – 400 Bu. PTO
Deere 1210 Grain Cart- 400 Bu. PTO
Deere 100 Series-14′ Field Cultivator-3pt.
Tye 14ft Grain Drill – 3pt. – 10″ Spacing
BJM Drill Hitch- Hyd
SM- 3pt – 14ft Chisel Plow
Dearborn Stiff Shank Cultivator- 2 Row-3pt.
Dearborn 6ft. Blade- 3pt.
Steel Wheel Grain Drill- Food Plot
Livestock/ Tanks/ Trailers
1000 Gal Diesel Trailer/ Converted
500 Gal Diesel Tank/ With Pump / Converted
Stock Trailer- 10ft- Bumper Pull
Gooseneck Grain Trailer- Steel Sides/ Twin Hoist- W- Tarp- Clean
SM Combine Header Trailer
2- 4 Wheel Trailers
Overhead Grain Bin – Needs Repairs- Legs
16ft Cattle Bulk Feeder- Pull Type
My-D-Handy Cake Feeder on Trailer
8- Fiberglass Calf Huts
Graves Round Bale Trailer- Single
Pickup Bed Trailer
Small Metal Loading Chute
Wire Roller / Briggs and Stratton Engine
No Small Items!!! BE ON TIME!!!
9:00 AM Start
Home at Delhi will Sell at 11:30am.  -> Click Here for Details
Contact Aubrey Latham at 580-393-4440.
MORE PICTURES COMING SOON!