Darrell Graumann Estate Auction
Saturday, November 16, 2019 @ 10:00 am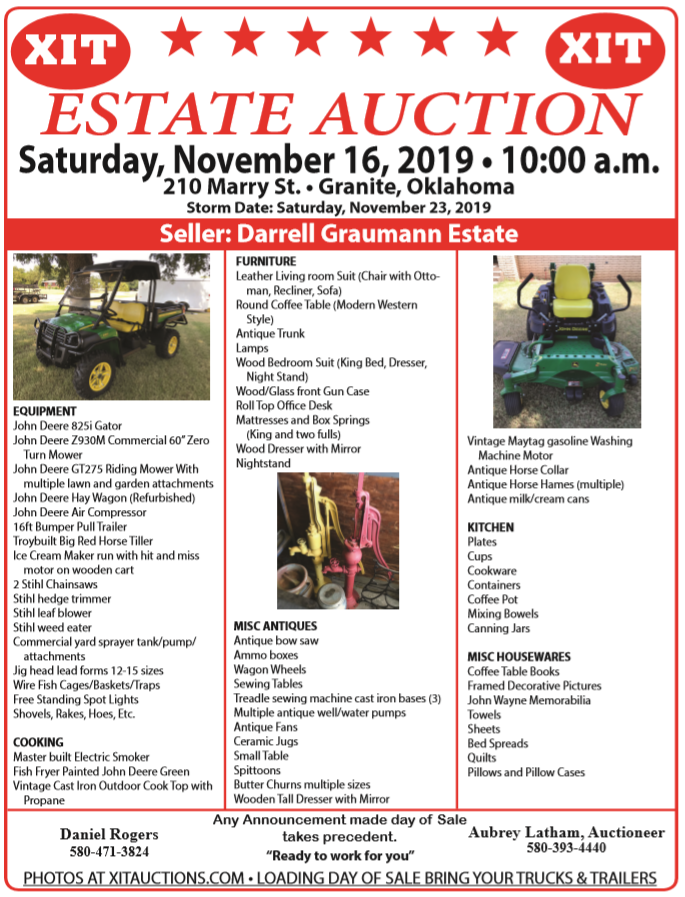 Granite, OK
Seller:  Darrell Graumann Estate
Auction conducted at
210 Mary St. – Granite OK
Selling Deere Gator, Deere Mowers, Hit & Miss Ice Cream Mixer, Tools, Household, Wagon, Wagon Wheels, and MORE!
List of Items:
EQUIPMENT
John Deere 825i Gator
John Deere Z930M Commercial 60" Zero Turn Mower
John Deere GT275 Riding Mower With multiple lawn and garden attachments
John Deere Hay Wagon (Refurbished)
John Deere Air Compressor
16ft Bumper Pull Trailer
Troybuilt Big Red Horse Tiller
Ice Cream Maker run with hit and miss motor on wooden cart
2 Stihl Chainsaws
Stihl hedge trimmer
Stihl leaf blower
Stihl weed eater
Commercial yard sprayer tank/pump/attachments
Jig head lead forms 12-15 sizes
Wire Fish Cages/Baskets/Traps
Free Standing Spot Lights
Shovels, Rakes, Hoes, Etc.
COOKING
Master built Electric Smoker
Fish Fryer Painted John Deere Green
Vintage Cast Iron Outdoor Cook Top with Propane
FURNITURE
Leather Living room Suit (Chair with Ottoman, Recliner, Sofa)
Round Coffee Table (Modern Western Style)
Antique Trunk
Lamps
Wood Bedroom Suit (King Bed, Dresser, Night Stand)
Wood/Glass front Gun Case
Roll Top Office Desk
Mattresses and Box Springs (King and two fulls)
Wood Dresser with Mirror
Nightstand
MISC ANTIQUES
Antique bow saw
Ammo boxes
Wagon Wheels
Sewing Tables
Treadle sewing machine cast iron bases (3)
Multiple antique well/water pumps
Antique Fans
Ceramic Jugs
Small Table
Spittoons
Butter Churns multiple sizes
Wooden Tall Dresser with Mirror
Vintage Maytag gasoline Washing Machine Motor
Antique Horse Collar
Antique Horse Hames (multiple)
Antique milk/cream cans
KITCHEN
Plates
Cups
Cookware
Containers
Coffee Pot
Mixing Bowels
Canning Jars
MISC HOUSEWARES
Coffee Table Books
Framed Decorative Pictures
John Wayne Memorabilia
Towels
Sheets
Bed Spreads
Quilts
Pillows and Pillow Cases
Call Aubrey Latham at 580-393-4440 for more information.